While Digital Marketing Tools do not solve all your digital marketing problems, they definitely aid you in finding solutions and creating robust digital marketing strategies.
There are thousands of digital marketing tools available on the internet today. It is hard to figure out which tools are the best. What an Irony right?

Well, based on our research and experience, below is a list of the top digital marketing tools in 2023.
20 Popular Digital Marketing Tools You Must Know In 2023
Ahrefs
Hubspot
Canva
VWO
SEMRush
Mixpanel
Hotjar
Slack
Omnisend
Yoast
All in One SEO
Google Search Console
Google Adwords
Convertkit
Google Analytics
Google Trends
Sprout Social
Sendgrid
Mailchimp
Hootsuite
Let us now take a look at the features of each of these digital marketing tools in detail.
1. Ahrefs
When it comes to keyword recommendations and SEO suggestions to rank, Ahrefs is one of the best ever.
You can check the organic ranking keywords for any URL using site explorer, and you can also determine how much traffic an URL is receiving. Additionally, you can also get the data around backlinks and top performing pages of a website.
In summary, Ahrefs is an excellent tool for both competition analysis and ensuring that your existing content is suitable for search.
Price: Starts with 99$ per month
2. Hubspot
Another popular sales and marketing tool used by businesses across the world.
It is a well-known provider of CRM and inbound marketing software, including email marketing solutions. One of the reasons for Hubspot's popularity is their ease of use and integrations. Hubspot has a drag-and-drop email builder, contact lists, a free plan with up to 2,000 monthly email sends, and pre-made templates are all included in the tool so you can get started right away.
What makes them stand out? HubSpot brings tools together and uses integrations to solve complexity. Sprout Social is one of the integrations that they offer. You can make and assign tasks for your customer support team as part of Sprout's care services.
Price: Keeping aside the free tools, Hubspot's Marketing Plan starts from 45$ per month.
3. Canva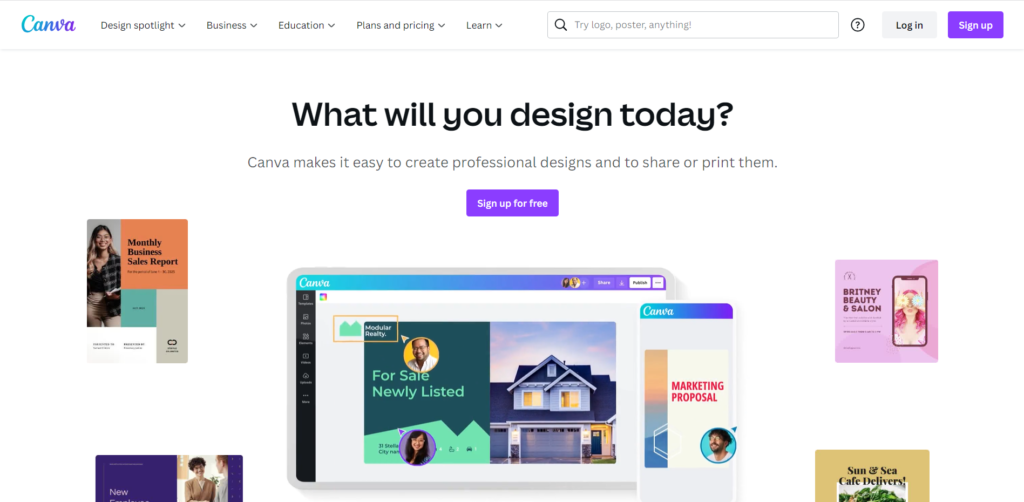 Canva is a free design tool that helps you create visuals like a professional with a polished and expert appearance. For added customization of the visuals you create, you can upload photos, icons, and your logo. Anyone (even those without prior design knowledge) may rapidly learn how to utilise it because it is so simple to do so. It is a simple easy-to-use drag and play around tool.
Canva is used to create infographics and animated gifs by several marketeers for website and social media postings. You can also create designs and videos by using existing ready-made templates on Canva which will help you in quick turn-around of tasks. Canva Business gives you a wide array of features that will help you build your brand.
Price: Canva Pricing varies from country to country. In India it starts from INR 499 per month and in the USA it starts from USD 12.99 per month.
4. VWO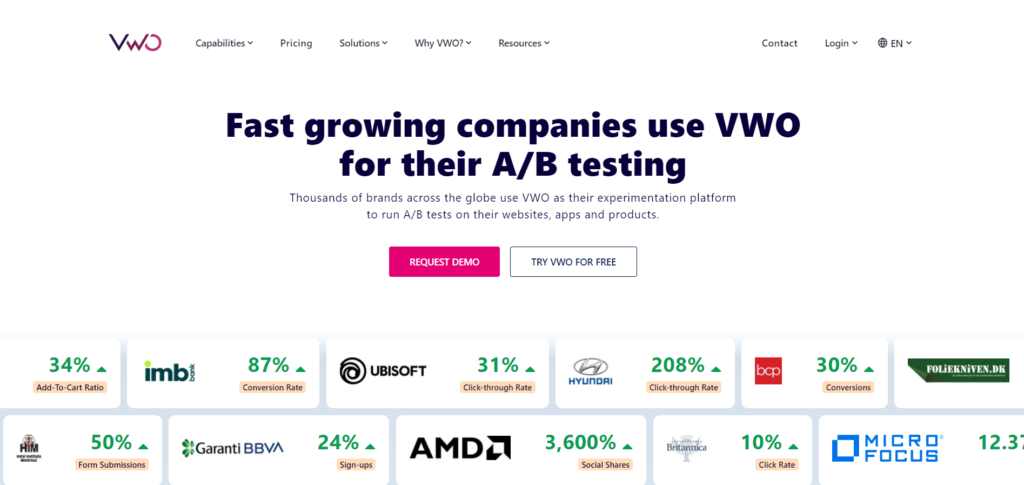 VWO helps us in tracking user page scrolling, time spent on the site(session duration), and intention to leave(bounce rate). The ability to test various parameters for your website to boost click rates and conversion rates is the strength of VWO. With VWO, it's simple to test button colours, headlines, web page designs, and several other elements.
It also does not require much technical knowledge to use this tool. Even people with no tech knowledge or coding experience can set up tests.
Price: VWO provides customised pricing. You can contact them here.
5. SEMRush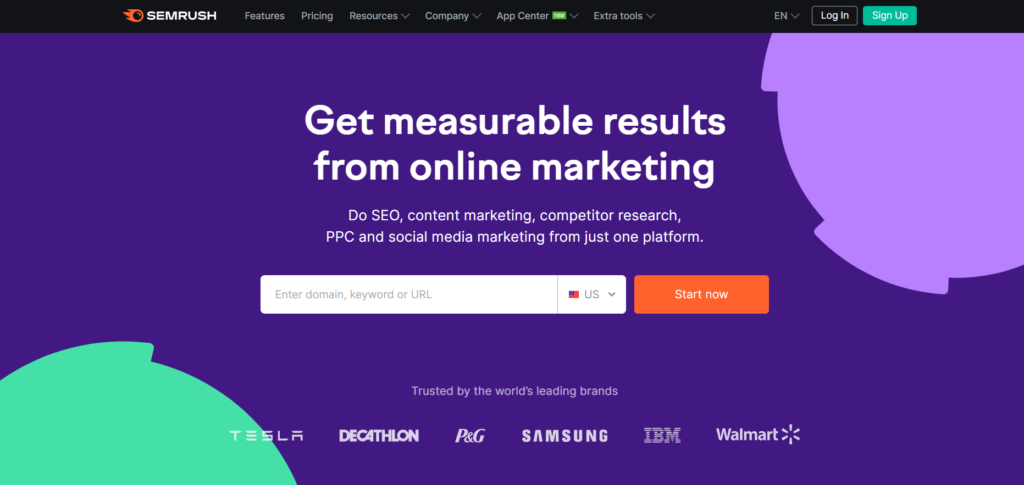 To stand out among competitors, you need information about their websites which will help you improve your website. SEMRush offers several tools to help you compete with your rivals. Although it is an SEO tool, it has a number of other capabilities for digital marketing. It also helps with competitive social media analysis, CRO, PPC monitoring, and PR tracking. SEMRush offers a strong line of defence if you're searching for a set of tools to combat against the avalanche of rivals trying to force you out of business.
Price: The Free plan is a basic one. The Pro version costs USD 539 per month.
6. Mixpanel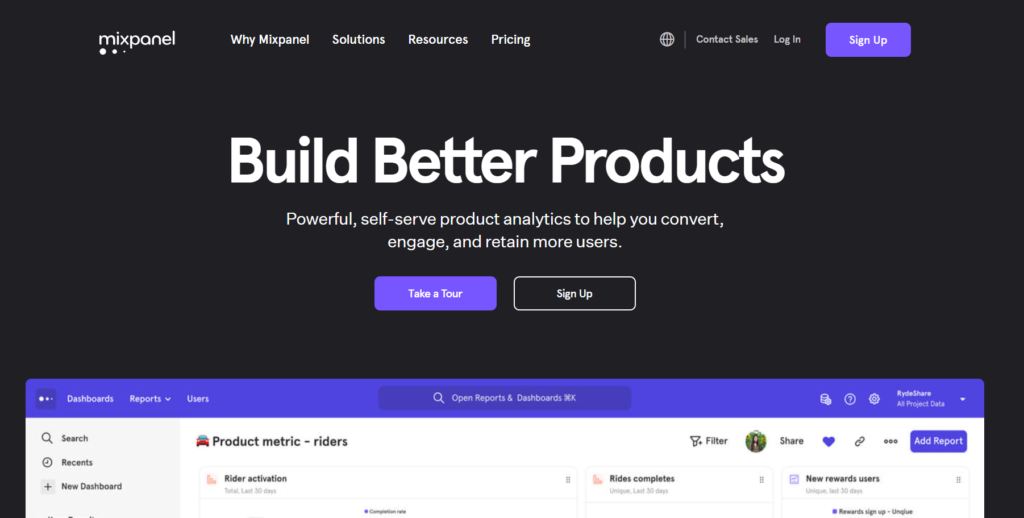 Mixpanel can be regarded as the extended version of Google Analytics. It gives an holistic view of how your marketing is in addition to Google Analytics. You can tag campaign with UTMs and can track button clicks and leads generated. You can see the end-to-end performance of the actions of users on your site.
Price: Free version has up to 20M events per month. The growth plan costs around USD 20 per month.
7. Hotjar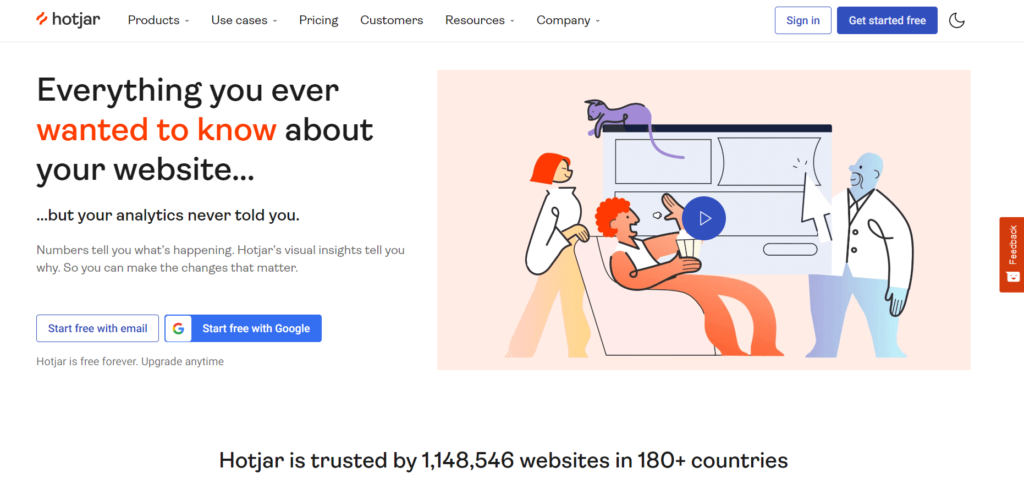 Hotjar is one of the popular digital marketing tools that helps you track the behaviour of users on the site. It provides behaviour information by leveraging powerful tools like site heatmaps, screen recordings of your user and surveys/feedback polls.
This will help you improve your on-page content and improve website design to help you improve conversation rate.
Price: The basic version of Hotjar is free and the Plus version starts at USD 32 per month.
8. Slack
The world started communications at an early age with pigeons and now we have evolved so much that supercomputers communicate by themselves.

Slack is a tool which is the preferred method of communication for millions of individuals across the globe. The messagind is quick with an option to add a wide variety of file formats. This tool helps you track your tasks and boosts productivity. It also links you to video conference sessions and lets you set up channels for a particular contact list. Additionally, it works superbly with a variety of other tools and productivity packages.
Price: The basic version is free. The Paid versions start from INR 218 per month in India and USD 7.25 per month in the USA.
9. Omnisend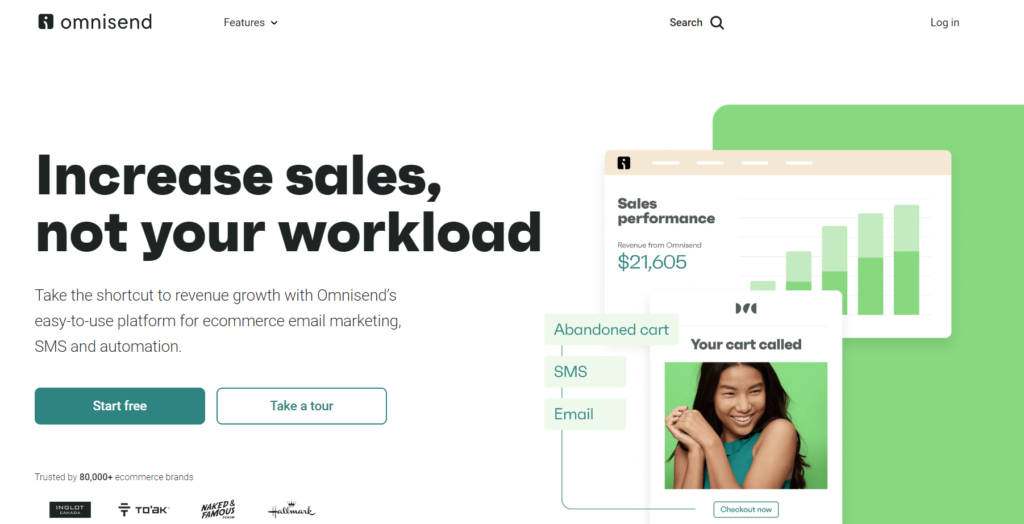 Omnisend is an easy-to-use platform that helps you drive sales and generate leads with ecommerce-tailored email & SMS marketing. Few of the other major features of Omnisend are Marketing automation, Web push notifications, Forms and popups, Reports and Segmentation. It also has a library of email templates with drag and drop features that will help you create stunning emails without any coding.
Price: The basic version is free and the paid version starts from USD 16 per month.
10. Yoast
Yoast is an extremely well-liked SEO plugin for WordPress that functions with both the Gutenberg and Classic editors. It is a great SEO tool that will help you make your content search engine friendly.
Yoast assists you in selecting the focus keywords to aid in ranking, unique content URLs, and internal links for a boost. Additionally, the plugin also rates the readability of your page using the Flesch Reading Ease scale.
You can always stay current on your SEO because it is updated every two weeks to reflect changes in Google's algorithm.
Price: The basic version is free and the premium version costs USD 99 per year.
11. All in One SEO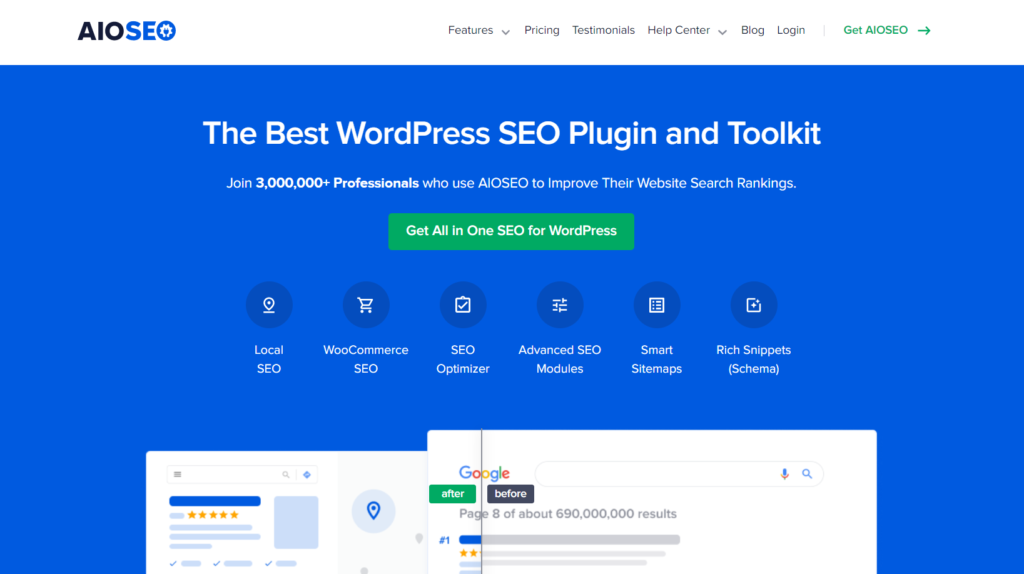 All in One SEO (AIOSEO) is a highly regarded plugin for WordPress websites for SEO purposes. The tool has a number of features that are intended to assist you with search engine optimization of your website and content.
With the use of this tool, you can concentrate on correcting mistakes and making simple tweaks in order to increase click-through rates. Additionally, you can perform a whole-site analysis, WooCommerce page optimization, and even local SEO optimization with AIOSEO. The tool also helps you with sitemap and schema.
Price: Basic plan is free and premium plans start at USD 49.50 per year.
12. Google Search Console
Anyone with a website can use Google Search Console, formerly known as Google Webmaster Tools, for free to track how Google sees their website and improve its organic presence. This includes seeing your referring domains, the functionality of your mobile site, rich search results, and the most popular searches and pages.
Since the tool is provided by Google itself, the accuracy is high and is widely used across the world by many digital marketers.
Price: Free
13. Google Adwords
One of the most well-liked ways to advertise your company on Google's search engine results pages is through Google AdWords. You can find out which keywords you wish to use in your advertisement and other material by using the Google Keyword Planner, by Google AdWords. You can establish spending limits based on your budget. Generally, Google Ads follow the PPC(Pay-per-click) structure.
You can use Google Ads to get ranked in the position zero of the page for precise keywords. With the help of Google Keyword Planners, you can improve your SEO and try to rank in the organic results.
Price: Free (few features will be accessible only if you are running active Ad campaigns)
14. ConvertKit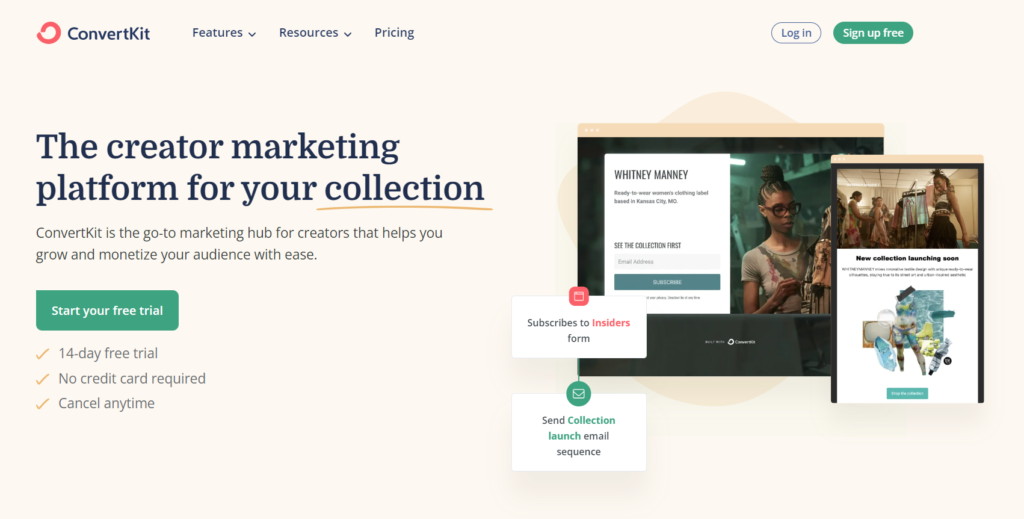 ConvertKit offers you sophisticated sequences—multi-step email journeys—to improve your email open rates.
ConvertKit's audience segmentation system provides robust automation for your email sequences. Additionally, all links included to your email sequences are monitored and reported on a single dashboard.
You can also design stunning email opt-in forms with ConvertKit that are simple to link with the CRM platform of your choosing by copying and pasting code into your articles.
Price: The basic version is free and the premium plans start from USD 9 per month.
15. Google Analytics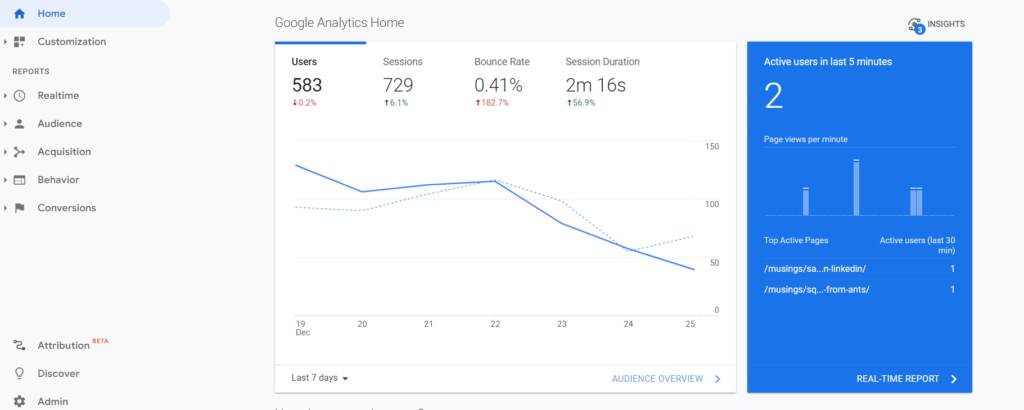 Google Analytics is a widely used tool for Website Analytics across the world. You will rarely find a digital marketer who has not used this tool.
Google Analytics can, at its most basic level, tells you who is visiting your website, where they are coming from, and which pages they are spending the majority of their time on.
Beyond that, you can set up goals to track conversions, and track events to find out more about user involvement. With this you can change UI/UX and content on pages basis the data from different demographics.
Price: Free
16. Google Trends
Google Trends is another digital marketing tool by google which helps you understand the latest digital trends across the world. Google Trends does not show the exact Search Volume of the Keyword but gives the overview of the same in relative percentage (0 to 100). With this historical data, you can say whether a particular keyword is trending or not. You can also check the most searched things over the last months/years and can use this to plan your content.
Price: Free
17. Sprout Social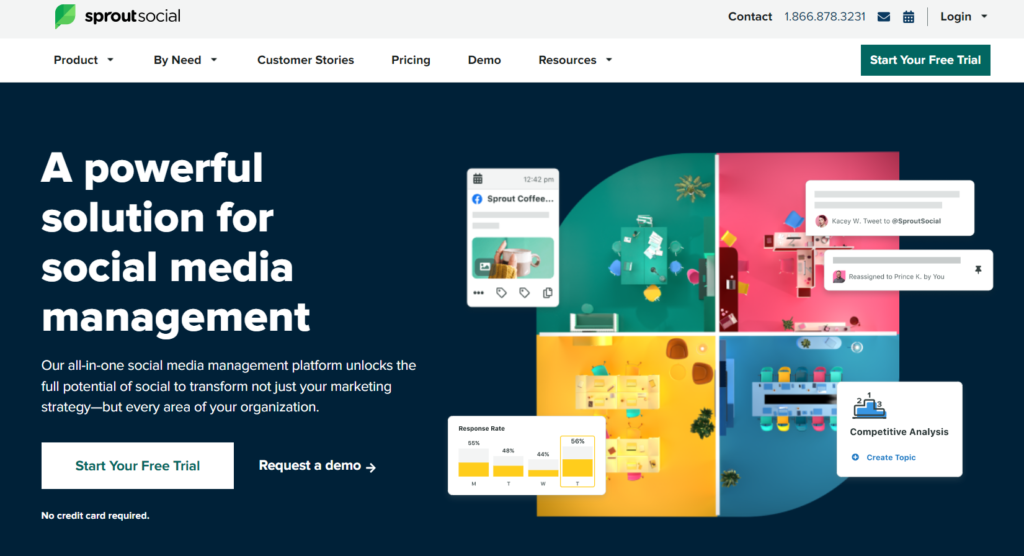 This tool will help you be in multiple places at a time. Wondering what does this mean?
Well, by automating your social media stories, Sprout Social enables you to post to a variety of social media networks. The analytics dashboard in Sprout Social is the best feature for monitoring activity on each social media platform after you've automated your postings. If you have several social media platforms, adding Sprout Social to your software stack makes perfect sense.
Price: The premium version of Sprout Social starts from USD 249 per month.
18. Sendgrid
Sendgrid is an email marketing tool which helps you design and send emails in just a few clicks. It also helps you to manage leads and the contact base with several customisations according to your convenience. One of the most popular features of Sendgrid is the easy-to-use UI/UX that helps you navigate with ease and learn all the features quickly.
Price: The basic version is free and the premium version starts from 19.95 USD per month.
19. Mailchimp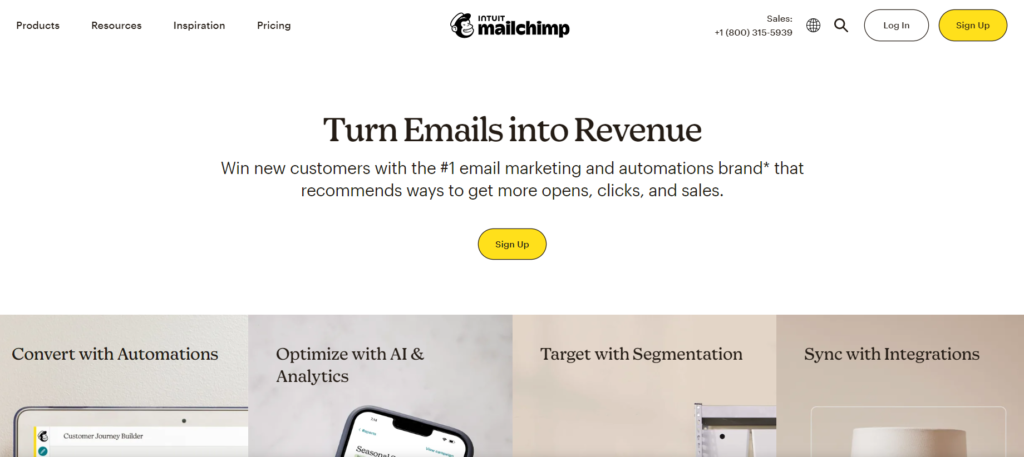 Any marketing team aiming to increase conversions and successfully reach their customer base through email campaigns must have MailChimp. MailChimp helps you create more eye-catching landing pages simplifying and improving ad campaigns. You can create a customizable email campaign with the help of the user-friendly marketing tools that will help you with better open-rates.
Price: The basic version is free and the premium versions start from 10 USD per month.
20. Hootsuite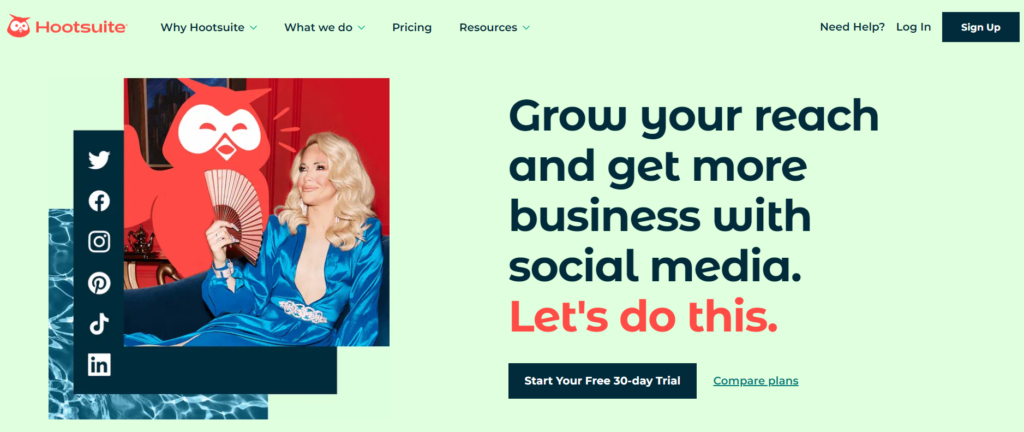 Hootsuite is one of the most popular digital marketing tools in the industry. It helps you keep an eye on all social media accounts and connects to every customer platform you can imagine. It also offers post updates and review responses. You can examine someone else's article and utilise the knowledge to improve your posts to outperform your competitors when they use a particular term that you also use in your content.
Price: The basic version is free and the premium versions start from USD 15 per month.
There are several other digital marketing tools for different purposes such as Social Media Marketing, SEO, Email Marketing and many other functions. Each tool has its own pros and cons. So use the best one basis your requirements and convenience.
Quick Check – Digital Marketing Quotes